VOICES Festival: TOWER OF BABEL Klangforum Wien
October 14 2023 @ 19:00

-

22:45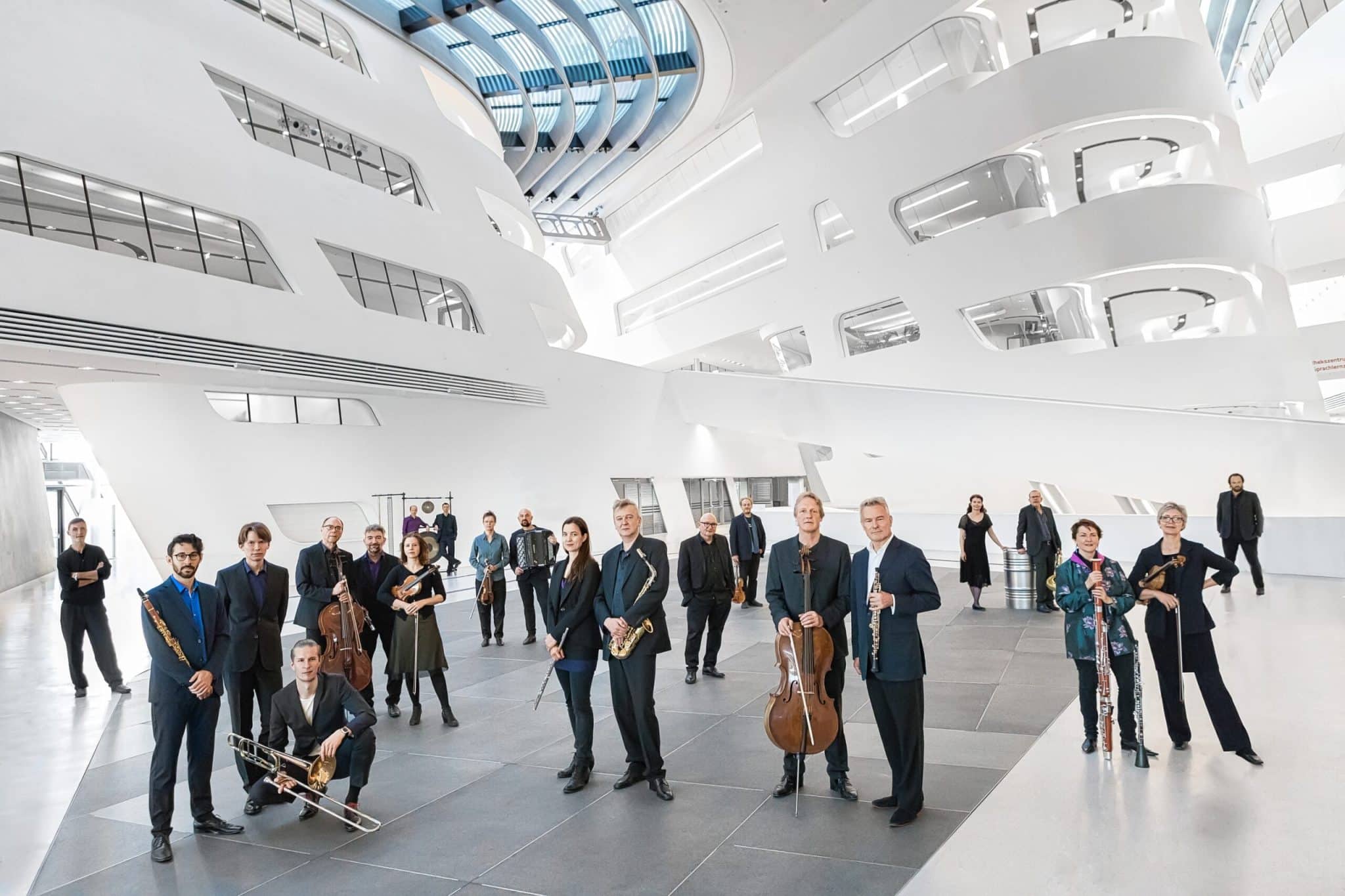 Huge shadows lie over the many scenes of new music in the region of the former Soviet Union, which is currently once again the scene of violent geopolitical conflicts. The lively exchange of leading composers and performers between Tbilisi and Minsk, Yerevan and Moscow, Tashkent and Kyiv has come to a standstill, the dialogue to a standstill. Music is once again in danger of being reduced to national self-assertion and the propaganda shield of supposed superiority. With the multi-part concert and discourse project "THE TOWER OF BABEL", Klangforum Wien designs a programme, which brings together uncompromising artistic positions from Armenia, Belarus, Estonia, Georgia, Kazakhstan, Latvia, Russia and Ukraine. Alternating between concert and conversation, the project explores the new in the music of today's post-Soviet societies.
Like a "Tower of Babel," the project is meant to stand out from this currently so battered cultural landscape: polyphonic, still utopian, and shining as both a refuge and a vantage point.
Programme
Part 1
Hall: 19:00-19:45
Alexey Sysoev (Russia)
Col Pugno
Age Veeroos (Estonia)
I see feathers growing in the sand of deserts
Jamilia Jazylbekova (Kazakhstan)
Les illusions de l`âme
Peter Rundel, Conductor
Panel 1: "Unheard Voices".
Hall: 19:45-20:15
Part 2
Hall: 20:30-21:15
Anna Korsun (Ukraine)
UCHT
Asia Ahmetjanova (Latvia)
Beth
Aram Hovhannisyan (Armenia)
Strophes-Segments
Vitali Aleksenook, conductor
Markus Deuter, oboe
Michele Marelli, clarinet
Anders Nyqvist, trumpet
Krassimir Sterev, accordion
Panel 2: "United or divided
Hall: 21:15-21:45
Part 3
Hall: 22:00-22:45
Dariya Maminova (Russia)
I don't know whether the Earth is spinning or not...
Valery Voronov (Belarus)
Gigantomania for tam-tam solo
Alexander Khubeev (Russia)
The Codex of Thoughtcrimes
Vitali Aleksenook, conductor ( Maminova)
Peter Rundel, conductor ( Khubeev)
New vocal soloists
Dariya Maminova, voice
The programme was already performed with great success at the Vienna Konzerthaus on 18/19 June 2023.
Open in thinking, virtuosic in playing, precise in listening - as one of the most internationally renowned ensembles for contemporary music, Klangforum Wien is dedicated to artistically shaping and expanding spaces of experience in the present. A Klangforum Wien performance is an event in the best sense of the word: a sensual experience whose immediacy one cannot escape.
The seven singers of the Neue Vocalsolisten are constantly searching for new forms of vocal expression in exchange with composers. One focus is the work with artists who virtuously exploit the possibilities of digital media, with a delight in networking, in playing with genres, in dissolving space, perspectives and functions. Interdisciplinary formats between music theater, performance, installation and concert staging characterize up to 30 premieres a year.
The deep penetration of complex scores of the most diverse styles and epochs as well as his dramaturgical creativity make Peter Rundel one of the most sought-after partners of leading orchestras, ensembles and opera houses. Under his precise direction, multi-layered sound spaces emerge with which he captivates his audiences; several recordings have already won international awards. For contemporary music in particular, his work has become a reference, which is reflected, among other things, in his close collaboration with important composers for numerous premieres of new works.
Belarusian conductor Vitali Alekseenok has attracted international attention after winning the 2021 Arturo Toscanini Conducting Competition in Parma, Italy, where he received first prize and the audience award.
In June 2021, Vitali Alekseenok became the new artistic director of the Ukrainian festival Kharkiv Music Fest, which held numerous concerts in bomb shelters, subways and hospitals in Kharkiv during the war.
Since the 2022/23 season, he has worked as Kapellmeister at the Deutsche Oper am Rhein (Düsseldorf, Germany).
Vitali Alekseenok is actively engaged in educational work. He has lectured at the Ludwig Maximilian University in Munich and the Humboldt University in Berlin. He has also directed several educational projects and numerous youth orchestras in Western and Eastern Europe.

Related events