VOICES Festival: DIVERTIMENTO
October 3 2023 @ 20:00

-

21:30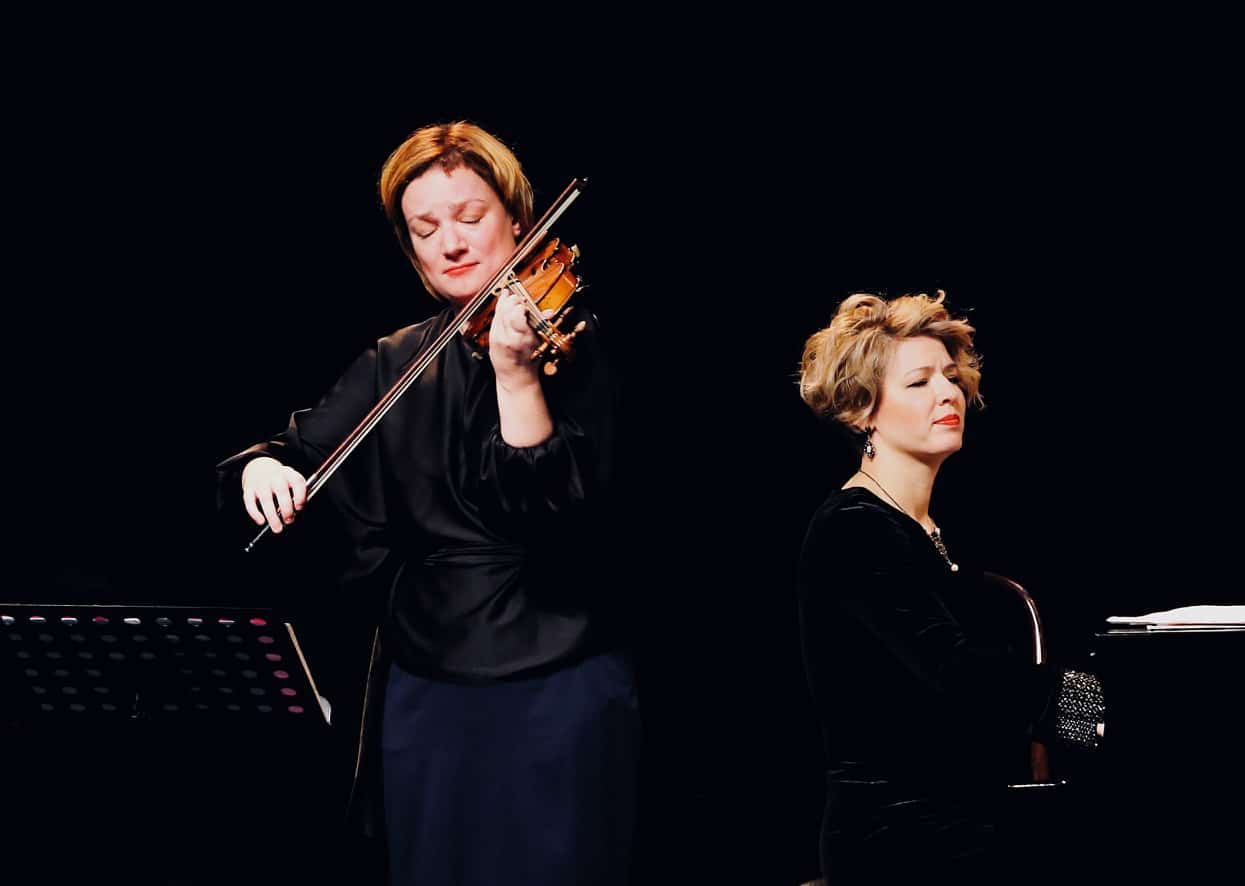 A broad spectrum of musical deconstructions of classical formal models is heard in this duo recital: Stravinsky's Divertissement (1934) is based on the music for his ballet Le Baiser de la fée, which in turn was inspired by Tchaikovsky's great ballet music. In wie der alte Leiermann... (1997), Kharkiv-born, Israel-based composer Leonid Desyatnikov dissects the last song from Schubert's Winterreise, which breaks down into fragile and vanishing fragments. The violin sonata Post Scriptum was written in 1990 by the Ukrainian composer Valentin Silvestrov in the spirit of his philosophy of metamusic, which views the entire musical tradition as a field of creative identification and interpretation. Finally, the second violin sonata Quasi una sonata by Alfred Schnittke (1968) marks the composer's transition to postmodernism and is heard as a sequence of fragments that, despite their departure from traditional form, convey dramaturgical rigor through their structural logic.
Programme
Igor Stravinsky
Divertimento (1934)
Leonid Desyatnikov
Like the old lyreman... (1997)
Alfred Schnittke
Violin Sonata No. 2 Quasi una Sonata (1968)
Valentin Silvestrov
Post scriptum (1990)
Elena Revich, violin
Polina Osetinskaya, piano
Elena Revich was born in Moscow into a family of musicians. She graduated from the Moscow State Conservatory in 1997. A year later she became a laureate of the 11th International Tchaikovsky Competition. She has performed in the Great Hall of the Moscow Conservatory, the Great Hall of the St. Petersburg Philharmonic, the Beethoven Hall in Bonn, Carnegie Hall in New York, the Prinzregententheater in Munich, the Duisburg Opera House, the Verdi Hall in Milan, the Santa Cecilia Academy in Rome, the Nice Opera House and the Finlandia Hall in Helsinki, among others. Leading young composers from Russia and abroad have written concertos and chamber works especially for her, including Sergei Nevsky's Concerto for Violin and Orchestra Cloud Ground (2017), which she performed with the MusicAeterna Orchestra conducted by Teodor Currentzis.
Moscow-born Polina Osetinskaya began playing the piano at the age of five and gave her first solo concert at the Vilnius Conservatory at the age of six, earning her the status of the most talented young pianist in the Soviet Union. She later worked with her mentors, who were in the footsteps of the great pianist and music teacher Heinrich Neuhaus, Marina Wolf in St. Petersburg and Vera Gornostaeva in Moscow. Polina Osetinskaya maintains a busy concert schedule, performing classical composers such as Mozart, Chopin, and Rachmaninoff, as well as contemporaries such as Valentin Silvestrov, Leonid Desyatnikov, Vladimir Martynov, Georgs Pelēcis, and Pavel Karmanov. Polina has performed at venues including Carnegie Hall in New York, Vienna's Musikverein, London's Barbican Centre, Rome's Teatro Argentina, and festivals around the world.

Related events