This event has already taken place.
Late masterpieces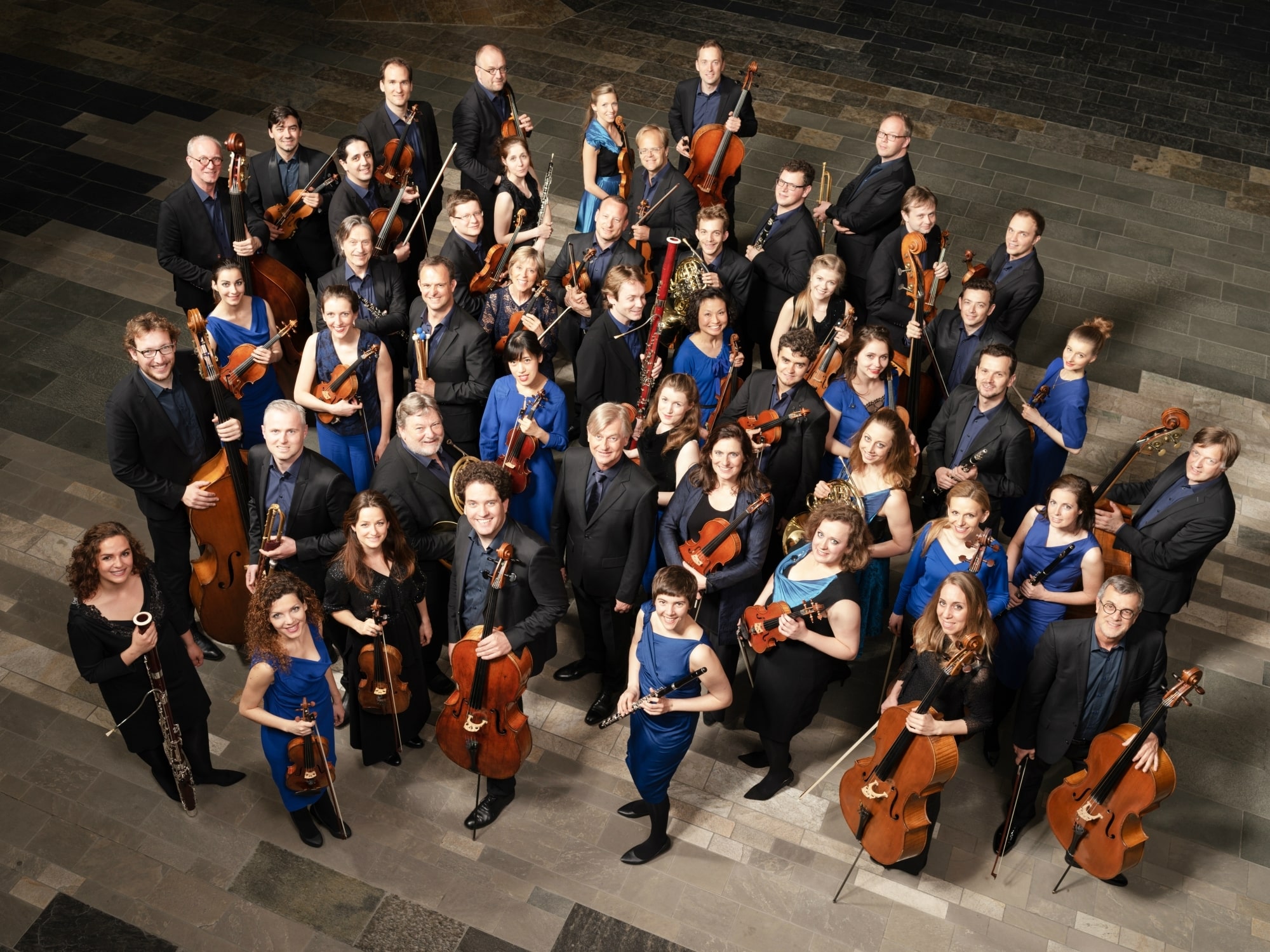 "Rethinking Beethoven X" was the working title for the new composition by Jens Joneleit, which Beethoven expert Jan Caeyers and his orchestra Le Concert Olympique will present in Berlin. With this work, Beethoven's sketches for his 10th Symphony are brought to new life.
Schubert's Unfinished Symphony and Mozart's Clarinet Concerto, like Beethoven's sketches for his 10th Symphony, were written during the last phase of their creators' lives. Only a few days before his death, Beethoven repeated in a letter his firm intention to complete his 10th Symphony - which, unfortunately, did not come to pass. "Rethinking Beethoven X" was the working title of Jens Joneleit's new composition, which he wrote on behalf of Le Concert Olympique. With it, Beethoven's sketches for his 10th Symphony are brought to new life. Joneleit's guiding idea is a journey of the incarnate Beethoven into the future. It is thus not a historical reconstruction, but a contemporary realization of Beethoven's intentions. This new piece is juxtaposed with Schubert's Symphony in B minor, D 759, probably the best known example of an unfinished work.
Mozart's Clarinet Concerto in A major, K. 622, which the composer completed two months before his death, concludes the programme. The combination of the dark ground color of this piece with a relativizing, almost witty counter-mood is an expression of Mozart's ambivalent attitude toward his fate during this phase of his life. Sabine Meyer plays the original version for basset clarinet, a larger and therefore deeper and darker sounding clarinet.
Programme
programme:
Schubert: Symphony in B minor, D. 759 "The Unfinished"
Jens Joneleit: sinfonia X - inspired by sketch material for Beethoven's 10th Symphony
Mozart: Clarinet Concerto in A major, KV 622
performers:
Sabine Meyer, basset clarinet
Jan Caeyers, conductor
Le Concert Olympique
Sabine Meyer is one of the world's most renowned soloists. It is thanks to her that the clarinet, often underestimated as a solo instrument, has reclaimed the concert podium.
Born in Crailsheim, Germany, Sabine Meyer first embarked on an orchestral career after studying in Stuttgart with Otto Hermann and in Hanover with Hans Deinzer, becoming a member of the Bavarian Radio Symphony Orchestra. This was followed by an engagement as principal clarinetist with the Berlin Philharmonic, which she soon gave up, however, as she was increasingly in demand as a soloist. In more than thirty years, countless concerts and radio and television appearances have taken her to all the musical centers of Europe as well as to Brazil, Israel, Canada, China and Australia, to Japan and the USA.
Sabine Meyer has enjoyed success as a soloist with more than three hundred orchestras in Germany and abroad. She has made guest appearances with all the major orchestras in Germany and has been engaged by the world's leading orchestras, including the Vienna Philharmonic, the Chicago Symphony Orchestra, the London Philharmonic Orchestra, the NHK Symphony Orchestra Tokyo, the Orchestre de la Suisse Romande, the Berlin Philharmonic, the Radio Symphony Orchestras in Vienna, Basel, Warsaw, Prague and Budapest, as well as numerous other orchestras.
Sabine Meyer's special affection belongs to chamber music, whereby she attaches great importance to long-term, continuous collaboration. She has performed in a variety of settings with artists such as Heinrich Schiff, Gidon Kremer, Oleg Maisenberg, Leif Ove Andsnes, Fazil Say, Martin Helmchen, Juliane Banse, the Hagen Quartet, the Tokyo String Quartet and the Modigliani Quartet.
In 1983 she founded the "Trio di Clarone" with her husband Reiner Wehle and her brother Wolfgang Meyer. Almost forgotten original compositions by Mozart as well as important works of the present form the repertoire; extended by extraordinary programs, several times in collaboration with the jazz clarinettist Michael Riessler.
In both solo and chamber music, Sabine Meyer has repeatedly championed contemporary music - works by Jean Françaix, Edison Denissov, Harald Genzmer, Toshio Hosokawa, Niccolo Castiglioni, Manfred Trojahn, Aribert Reimann, Peter Eötvös and Oscar Bianchi have been dedicated to her.
Sabine Meyer has made numerous recordings for EMI Classics; there are also recordings for Deutsche Grammophon, for Sony as well as for Avi-music. The recorded repertoire ranges from pre-classical to contemporary compositions and includes all important works for clarinet.
In addition to having received the "Echo Klassik" award eight times, Sabine Meyer is the recipient of the "Niedersachsen Prize", the "Brahms Prize", the "Praetorius Music Prize of Lower Saxony"; she is a member of the "Akademie der Künste Hamburg" and was awarded the order "Chevalier des Arts
et des Lettres".
Since 1993 Sabine Meyer has held a professorship at the University of Music in Lübeck.